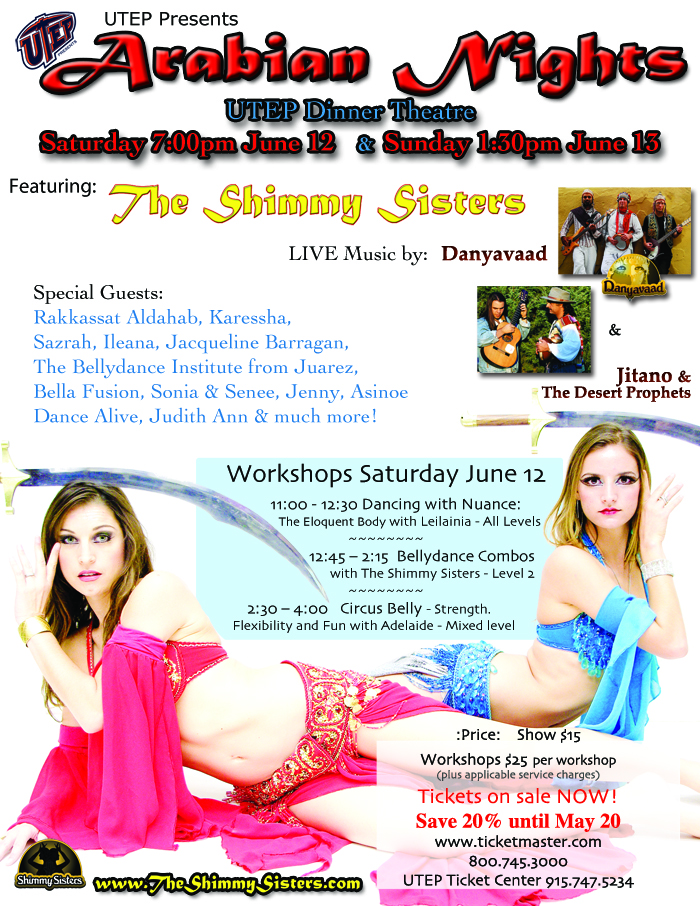 UTEP Presents Arabian Nights: Featuring Danyavaad & The Shimmy Sisters
With Special Guests :Jitano & The Desert Prophets
Returning for their 6th annual Arabian Nights showcase on June 12 and 13, 2010 El Paso's native daughters, Leilainia and Adelaide Marcus, better known as award winning-belly dance troupe, The Shimmy Sisters, return to the UTEP Dinner Theatre, for 2 shows with LIVE MUSIC! We invite you to embark on a cultural journey through dance, music, and the mystique of belly dance.
Event Info:
WHO: Arabian Nights: Featuring Danyavaad & the Shimmy Sisters
WHERE: UTEP Dinner Theatre
WHEN: Saturday, June 12, 2010 and Sunday, June 13, 2010
Performance Times: Saturday 7 p.m. & Sunday 1:30 p.m.
COST: Performance Tickets $15 each show / Saturday Workshops: $25, plus applicable service charges.
Tickets available at UTEP Ticket Center, online at www.ticketmaster.com, by phone at 1.800.345.8000,
Tickets on sale May 1, 2010 ** 20% discounts until May 20**
FOR MORE INFO: 915.747.5234

Workshops:
Saturday June 12, 2010
El Paso dancers of all levels are invited to participate in several workshops provided by The Shimmy Sisters.
All workshops are 90 minutes long and cost $25 each. *Discount available until May 20, 2010 * (plus applicable service charges)
11:00 - 12:30 Dancing with Nuance: The Eloquent Body with Leilainia - All Levels
12:45 – 2:15 Bellydance Combos with The Shimmy Sisters - Level 2
2:30 – 4:00 Circus Belly - Strength. Flexibility and Fun with Adelaide - Mixed level
Shimmy Sisters:
For their El Paso performance, The Shimmy Sisters will be joined by several El Paso/Juarez dancers such as: Rakkassat Aldahab, Karessha, Sazrah, Ileana, Jacqueline Barragan, The Bellydance Institute from Juarez, Bella Fusion, Sonia & Senee, Jenny, Dance Alive and the Shimmy Sisters mother Judith Ann. This show has sold out for the past 5 years and will sell out again!

The Shimmy Sisters have had quite the year--celebrating the release of Leilainia's Instructional Belly Dance DVD released by Acacia, and their nomination for the 2009 San Diego Music Awards (Danyavaad and the Shimmy Sisters Best World Band & Best World Album "March of the Gypsies"), followed by extensive touring, special performances with world acclaimed Queen Harish from India, and teaching and performing on the Arabian Nights Sea Cruise.
About the Music
Allow the live music of Danyavaad to take you back into an ancient past with their Middle Eastern lounge mixed with Indian vibes and rock. They play live original Middle Eastern flavored music featuring the electric sitar and tribal drum beats The unique songs of Danyavaad are originals by San Diego's Guitarmageddon Champion Greg Vaughan, tribal drummer Gabriel Penix, and DJ/bassist Sandy Bagri. Danyavaad means 'thank you' in Hindi.
Opening for Danyavaad is El Paso's lost gypsy band reuniting after 10 years Jitano & the Desert Prophets featuring The Shimmy Sisters father Hal Marcus on percussion, Adam Schydlower on Guitar, and Nathan on Violin.
For more information about this event or to set up interviews please contact Marina Monsisvais at 915.747.5481 or via email at mmmonsisvais@utep.edu. For more information visit www.theshimmysisters.com.
Plus: TRUNK SHOW before and after the show on Saturday and during the workshops on Sunday at the UTEP Dinner Theater.
Join us and purchase on of a kind goodies from India, Egypt, and Morocco