Projects
"We keep our artist integrity by involvement in various creative and motivating projects,
this keeps the creative process fresh and entertaining." - Leilainia
Charmerd Life Productions and HoopCharmer add The Shimmy Sisters to "Circus"!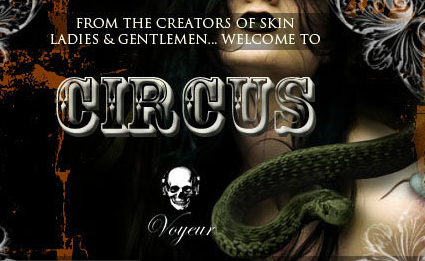 Discovering Harmony in Duality:
Two modern day Nomads, Sam Salwei of the YogaSlackers& Adelaide Marcus of the SHIMMY SISTERS, have found a common thread that weaves through creativity and movement of any shape or form. With Hoops and Lines, they are hitting the open road to bring you the evolution of their combined journey. Their tour, Discovering Harmony in Duality, encompasses workshops and shows that include Belly Dance, Hoop Manipulation, SlackLine Yoga, and Partner Acrobatics. Stopping at more than a dozen cities in 30 days for both impromptu and planned events (details below), Adelaide and Sam will carry their enthusiasm all the way to Telluride Yoga Festival.
Twisted by Design- a phototale
Images blend together into a cohesive story of 2 separate beings of imagination, that come together and find balance.
Photos by Aaron Dressin.
Models: Adelaide Marcus and Daniel Salerno

Cavallero Vampiresses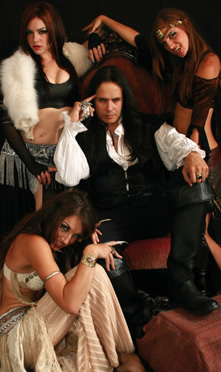 See more photos
The Fairy Show
Fairies living under mushrooms and flowers, awakened by the sleeping giants, befriending snakes, sprinkling magical glitter and dancing with their wings. Do i have to say more?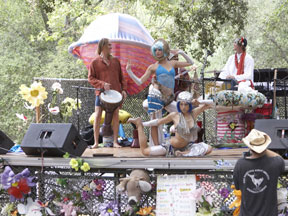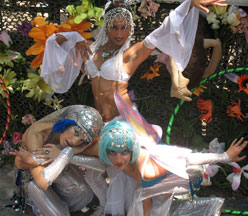 Shreddettes
The Shreddettes is a theatrical interpretive dance trio that performs with Greg Vaughan. Dancers are Adelaide, Brianna and Leilainia.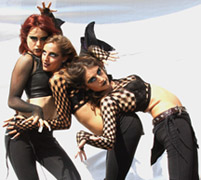 Click for Photos / Video
Tragic Tantrum
The Tragic Tantrum Cabaret is quite possibly San Diego's premier Punk Cabaret band. With Zoe on vocals, and Zephyrus Rex on instrumentals, this two-piece is no typical group. Employing multi-media and theatrics, TTC has been hailed as one of the most creative bands on the San Diego open-mic circuit today.
See Photos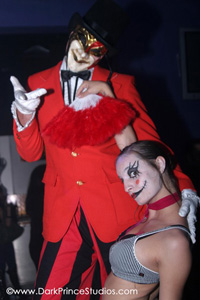 Miz Mandy
In March 2007 , Miz Mandy's first dance single, 'In the Mix,' remixed by DJ Scotty K. (Christina Aguilera), broke onto the Billboard Breakout Charts, at 2 and 5. Two weeks later, "In The Mix" debuted at 43 on The Dance Club Play Charts, climbed to 40, and this week, hit 37.
See Photos